Meet Dr. Quamar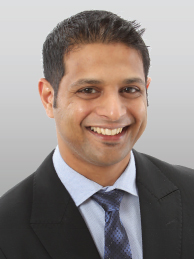 After receiving his bachelor of science degree in dental surgery (BDS) from Hamdard University in 2005, Dr. Quamar moved to Dallas where he resided for many years before relocating to the East Coast. In 2009, he completed his advanced post-doctoral training in periodontology at New York University, after which he moved to Philadelphia, completing his master's degree in oral biology, periodontology, and oral implantology at Temple University's Kornberg School of Dentistry in 2012.
Dr. Quamar is excited to be back in the Dallas area. He has a true passion for periodontics and believes in autographing all of his work with excellence. What he loves most about being a periodontist is the day-to-day patient interaction, allowing him to provide each patient with optimal oral care.
In his spare time, Dr. Quamar enjoys spending time with his toddler son, traveling, and playing pool.